Canada's Device for Scanning Concrete Quality and Strength in Real-Time
---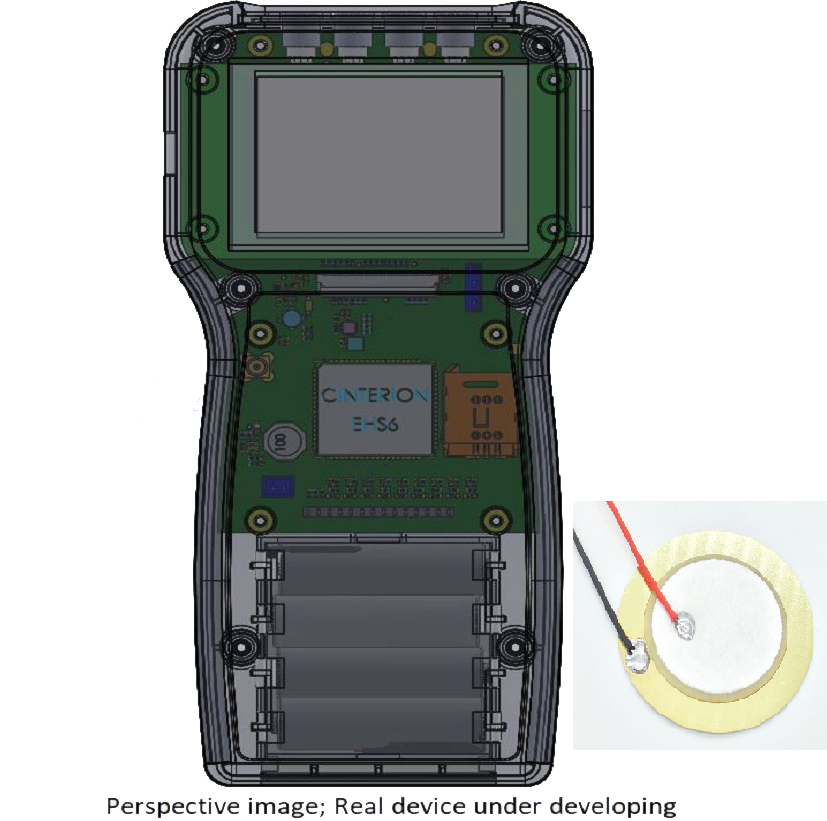 Key features
---
Non-invasive and non-destructive method
Can be used with equal effectiveness on fresh or mature concrete
A portable, handheld device integrated with GPRS/Wi-Fi and GPS technology to send real-time data to key decision makers and locate defect areas accurately
Piezoelectric embedded sensors operate as an actuator-sensor couple
Real-time monitoring to ensure cracks are detected immediately
Product overview

---
Concrete MRI's device allows you to measuring concrete quality in traditionally hard-to-detect joint areas and foundation areas that have been backfilled by soil.
The continuous monitoring and detecting of concrete cracks in areas including: concrete grade, interior cracks, exterior cracks, honeycombs in concrete, and voids in concrete allows you to find issues before maintenance and replacement is needed and potential hazards occur.
Our innovative device uses piezoelectric embedded sensors that are fixed into the concrete element. This allows you to monitor concrete defects in real-time, unlike using conventional methods such as ultrasonic pulse velocity (UPV) or the rebound hammer tool.
Using the power of General Packet Radio Service (GPRS) and Wi-F you'll be able to analyze and send real-time data using your laptop and smartphone while on-site to anywhere. The use of GPS technology allows you to easily locate the checked concrete areas. This makes it easier to monitor the structural integrity and ensures safety measures are in place.
Monitor for concrete cracks in real-time using piezoelectric embedded sensors
Receive real-time data from the piezoelectric embedded sensors that can be analyzed on Concrete MRI's portable device.
Send data using GPRS (3G/4G) or Wi-Fi signal and locate the area using GPS – all in real time – allowing you to make informed, accurate decisions immediately.
| | | | | |
| --- | --- | --- | --- | --- |
| | | Ultraviolent Pulse Velocity (UPV) | | |
| Non-invasive/Non-destructive | | | | |
| | | | | |
| Ability to check concrete strength at joints along columns, beams and slabs | | | | |
| Ability to check for concrete quality along areas backfilled by soil | | | | |
| | | | | |
| | | | | |
Book A Demo Today
---
Learn how you can make accurate and cost-effective concrete scanning decisions today. Book a demo with our team.
---